As usual in our lives, things could happen,  events often times go differently than we expect. My vacation was approaching, and needed, total cleansing of head, body, and mind was nearing.
Before the start of the hunting photography season; which is the main activity for FOTOSTORYAS. Despite my initial plans I had accepted to head out on an adventure behind the borders of the Czech Republic, where I currently work.
However, last minute events have their own way of working magic. Just about 36 hours before the start of my journey I haven't even know where we were going and then shortly thereafter those first 36 hours I was already crossing the border to Germany. My first stop was literally the "Gate to the Alps" to slowly opening ahead of me.
My final destination was clear, a fairytale castle, full of princesses as I know from Ella´s book (dcera). There is was standing in the middle of a green wall with rocky guards protecting it.
The rest of the trip onto my main camp went smoothly and swiftly. Even before midnight, my tent was pitched – but this time it was in Italy. There was a storm earlier in the day and had already ended. However, it wouldn't be the last one. As I laid there warmly wrapped in my sleeping bag a crisp 12´C nipped at my nose. As I laid there in relaxation I listened to the sound of the rain gently falling onto my tent. The gently falling rain sounded like a solo ensemble being played out like the keys on a piano.
Day 2:  Parco Naturale · Di Fanes-Sennes-Braies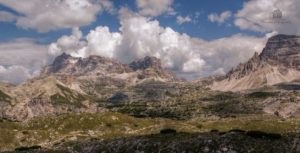 After the night storm, I was awakened by a wave of water on my t-shirt when I was leaving the tent. During the planning first trip, I was devoted to passion called coffee prepared on an adventurous gas cooker. The target of this expedition or rather trip if we get lucky was at least see some inhabitants of those massive mountains and rocky surrounding, that stood above the tent. Cameras are cleaned, equipment packed, just the helmet was missing (now I know).
And now I'm at the start. Ahead of my eyes lays a huge rocky mass with a steep path, which was ending somewhere up in the fog, that was leaving for the day rest. First 10 km on the steep path and first change of clothng. The weather has shown us, the majesty of these mountains in the best light. Next 10km this climb only took us a few moments. I'm approaching the lake and honestly, I'm thinking of just jumping in with my trousers on. No, I'm not going there. lol. However, after soaking just my feet,  fingers, and my hair. I'm happy to sit at the lakeside and have lunch. Way back almost 26km I remember that what I went up I have to go down. At this moment, I don't know what is worse – the way up or down? I concluded that the way down, at least for me on the rest of this expedition is worse. As the rocks are loose and release under my footing making the decent rough on my knee injury.
Luckily, the knee injury was just stretched ligaments and it didn't swell. With the aid of lots of cold water my knee didn't turn the colors of the rainbow. I knew, I was very lucky nothing was broken. I reached my tent that day with clenched teeth and the feeling of a wood-wedge in my knee. However, the pictures that I captured are well worth my efforts of crossing my personal limits – as that's generally the case with me. A person whom doesn't risk to look behind the fence never see what is there.  The tasting of Italian Wines that evening and another big surprise storm that turned off the lights again ened my evening.
Day 3: Parco Naturale Di Fanes-Sennes-Braies, Parco Naturale Tre Cime Day of Lakes and Peaks
I as near my destination, I ask myself the question – Would I finally get into the water?  Capturing the early morning shift for the sunrise over the rocky mountains, as it mirrored itself in the crystal blue waters below.
This morning there was a great absence of coffee. Coffee is not prepared here in the morning and cook stayed behind. At sunrise something magical happens, not every morning ends with sunset and not everyone begins with a sunrise.
Every single sunrise brings with it new opportunities for all those who keep walking with their
head up. I have already walked long and deep and the sunrise has already passed over me. I have traveled about 10km on my feet and my steps are not taking me into the nature reservation Parco Naturale Tre Cime, but unfortunately without animals, despite this, the trek was unbelievable, challenging but amazing, three guardians of this monumental landscape are tending to the height, my lips are dried, my knee is hurting when going down and in the distance. I can see the calling power of Mother Nature. As, well here comes another storm, as I can see in the distance. With my trekking sticks swirling the dust of the dry rocks, I'm start to cool my wounded knee with iced water and make my first contact with local fauna representatives – marmot. Almost invisible and warming up on the rock despite the rain coming; I have also forgotten the storm, too. As, I am struck with the true beauty of this place. I take the time to catch and use this opportunity, as it doesn´t have to come tomorrow.
Till the end, it lasts approximately two hours in total around 25km. It was easier today, I was smoothly cooled by gentle rain and I know surely that today´s day was fully utilized. The tent is whipped by heavy rain and the headlamp (luster) is swinging like a blade of grass in a restless wind on the pasture all around.
I'm getting used to that, used to this concert that nature is offering us already for the third day.
Day 4:  Parco Nazionale Delle Dolomiti Bellunesi, Venezia
When I have opened my eyes and firstly listening if the concert of raindrops has calm down under the outgoing night, trying my knee, bend, touch if it is in normal shape, getting out of the tent carefully. I'm quickly checking tent and air tunnels.
After yesterday quick start and 52km trek the day before and yesterdays 25km. my thoughts are directed more towards the valley bounded by forest and pine-trees, steep meadows. The destination is Bellunesi park. Two hours calm drive through north Italia is
welcomed, a secluded parking lot, unpack and very hot weather. On the landscape all around is clearly visible the I'm not at 2000 msl, but rather on the border to inland. A couple of waterfalls, overworks, a few singers…..I will not be deceiving but I´m leaving disappointed, I´m finding out that this is the third location, that means the park is divided into three sectors and in this one is not the target of the photography… so only tomorrow.
The mood in the team is still excellent and motto of the expedition "so when we are here already" is getting the right meaning. In nearly two hours all our group is walking through the streets in Venezia and in the next two hours we are getting off our t-shirts and going to swim in the sea. The seas have said what wanted to be said, everything is answered. After 20 minutes enjoying almost midnight swimming, the jellyfish romantically snuggle to me, I'm going to have memories for lifetime, as I look at my hand. A small idea can skip the sea and the land. The four hour night trip back to the tent and falling asleep close to the morning, with the storm on the shoulders, as usual, this time I didn't even hear the concert despite the wind swinging with the tent.
Day 5: Fojedöra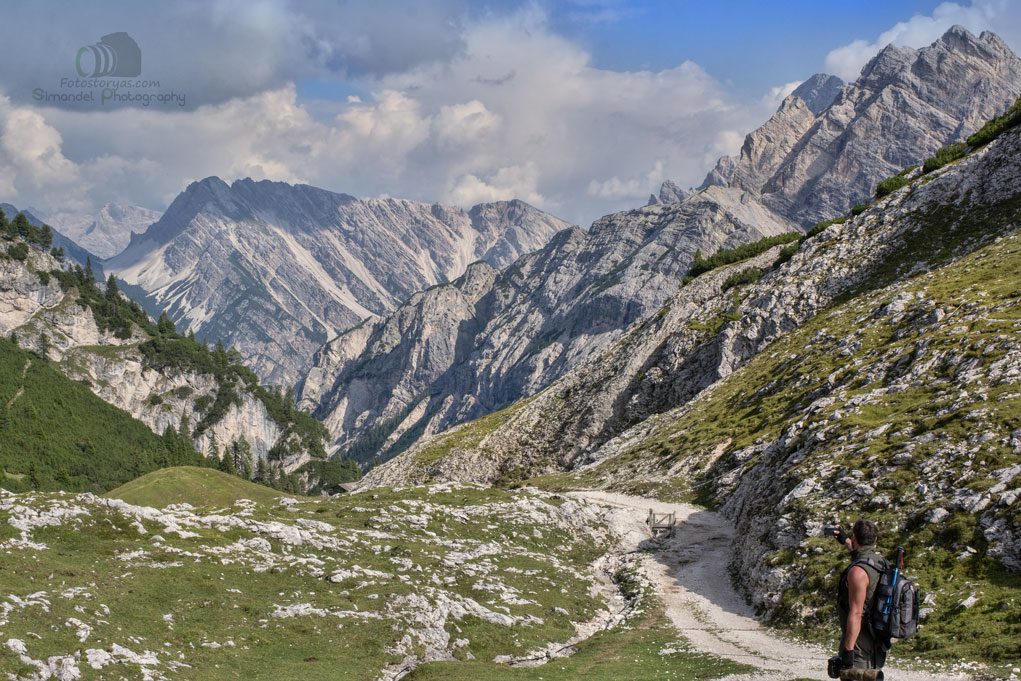 After repeated night drumming and the torrential waves of the rain (tonight was the final of the concert cycle), I got out of the tent before the noon (guessing according to the sun and the warm). Today is wanted a beautiful valley. I´m studying map from up and down and we are interested in one treck and one target (total time about seven hours, way there and back), I´m packing headlight, as I have the experience from Idaho, trecking sticks, water, protein snack and some food, spare clothes. And we are on the way.
Very pleasant trail lined by forest roads, but just to the moment of the direction sign that leads us to the steep forest, where the path is made by roots. For the next three hours we are just stepping up and when we look back it seems unbelievable, how high differences we are overcoming. We are running out the water and from a pleasant trip in the forest, is suddenly becoming a search for water springs.
I´m systematically checking the top of the mountains and meadows between rocks, that are standing over me as a guardian from the surrounding world and from an outside world.
Movements just a small….But it is there. . . A Chamois Family. .That's having a lunch mountain grass but they are not getting disturbed even I know they know about me. (video) I´m staying with them in about half an hour and then I follow the path, perhaps to heaven. I´m singing a song in my mind about a white rabbit and thinking when he pulls me down to the hole, based on the clouds, it will be probably soon.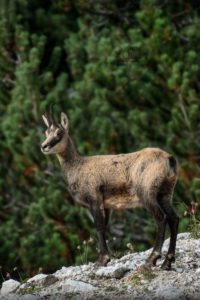 After 2.5 km, I finally found the ridge of the hill where I burned my thigh for four hours.
In front of me is spreading an incredible panoramic view of the tops, rocks, and meadows, cows with the bells were making a totally different concert, then I experienced in the night. Fojedöra was another 20 minutes by steep way down.
I hope there will be water… I don't have any other possibility, just a couple of photos and I'm going down. The night is approaching and with its sound of the thunder, that is closer than it seems to be. I´m coming to the farm in the middle of fairytale valley that reminds of the plastic model of perfect harmony of the landscape.
I´m entering through a wooden gate and I feel, that this is not accessible to the public, but rather that I´m walking on someone´s yard. The natives are coming to us, we sit down and they give us an original menu. We choose food mix produced there and something to drink. Unbelievable. Such peace and quiet, excellent homemade food, very kind and hospitable people. We are exchanging contacts because I feel I wasn´t here last time… and if there will be a chance I will come back. The night is calling and the storm is closer and closer, my knee is letting me know and I feel right, that dodging with lightning on the rocks will be a problem. I´m going down and my knee is hurting and I feel that the rabbit is coming. I´m looking at the rocks and then I saw him approximately twenty meters ahead of me. Chamois, he is looking at me and I to him. He is posing.
Only scheduled meeting could be canceled. Accidentally couldn´t be canceled. I´m speeding up, couple rain drops on the lens and Thor´s coming is keeping me to move forward. I´m happy to have the headlight with me even if it doesn´t help. I got lost and that means my treck is longer about four km through the wood, I´m getting out of the wood in the next village, remaining part of the treck I´m walking on the asphalt road, to be sure. Couple of Roebuck is my companion. Finally. I´m seeing tent, group is already sitting and I´m getting glass of wine. I´m not going to finish it, because the concert of the night sky is approaching us. I can´t even imagine night without drumming rain on the tent walls. Good night and I hope that the light will just from headlight.
Day 6: Krimmler Waterfalls
Morning is here. Chilly and humid air is like a life exciter, that dips into the veins. Traditional morning coffee. Today we are packing and moving. The trip that lasts four hours from rocky Italy to rocky Austria. We are packing things and equipment like a puzzle into the car, that seems to be inflatable. We are leaving, a couple coffee breaks, and calm trip ahead of us. For those whose are going to Italy, radars are everywhere, watch out your speed, just a friendly advice.
First, stop and it is already clear that our legs will be again in fire. We are climbing up and waterfall is refreshing by water vapor, that is really refreshing at this moment, we are almost there by the spring. The original lunch on the top with a dull mass of water. This could be the reason why we did not even mention what is coming. First rain drops, we look back and in a minute we are running. My knee is still trying me, I´m crossing my limits.
If you find a way without obstacles in your life, surely it is heading nowhere. The torrential rain and storm were eager today and did not wait till the evening. I do not even try to run, I'm already wet and should I get tired? I´m changing clothes by the car and waiting for the rest our group and we are leaving. Next trip for another four hours. We should be at the target place at 22:15. I tis freezing outside.
Thunders are making incredible atmosphere wipers are running. Perfect timing. We are leaving alp of Austria and we are getting news about heavy snowing in Dolomity in the place where I was walking a couple of hours ago in T-shirt and shorts are just confirming that. The rabbit is really trying hard. I´m falling asleep. Noone is able to come back and create a new beginning, but everyone is able to start today and create a new end.
Day 7: Gollinger waterfall, Nationalpark Berchtesgaden – Königssee
Packing again. After seven days we are having breakfast in the restaurant. After one hour pampering our stomach with delicious food, we are sitting in the car and go. Last stop – Konigsee.
This day bears witness to the memories and experiences of the past days, I hurt my knee, seven storms with lightning, jellyfish hugged me (i look at my arm and I´m not hiding smile), I have reach the sky with all equipment and experienced the first meeting. We are all in excellent mood Even though tough and adrenaline situations
We are coming to Konigsee. Beautiful place with hidden secrets, small theatre with plush chamois caused less turmoil. I'm waiting almost one hour till the tourist take a picture of chamois (present for daughter and niece) when taking them people start to clap J Small clap for human, big one for Adam. As relax before we start the way back home, excellent and perfect end of seven days long trip, five countries, three thousands kilometers, with incredible experiences and recognizing exceptional people in exceptional moments. The best actions are spontaneous.
I´m going through Austria, Viena is saying goodbye by the traffic jam – end of the expedition coming to Bratislava in the dark. The castle of Bratislava looks like a giant guarding the shining souls of people and animals, and I have seen those giants in the last week a lot. The melancholy that lurks between the lines is changing as closer I am to my home. Hi daddy…….. sentence, that ends the trip of crazy one with the rabbit in the back and changes it to…. Crazy with the perfect daughter with Chamois.
Thank you all.
Thank you for the incredible trip, strong adrenaline, excellent atmosphere and crazy things, I´m crazy.
Rabbit, you were really close this time as you have already been couple times.
Expedition Alps tour, I consider for great. A clear head and full SD cards and reset.
Don´t wait for anything, life is running faster than you think.
"The world belongs to those, who don't get a shit out of that" CH. Bukowski
Browse the Photo Gallery – Click Any Image to See Larger View
Are you excited?
We are giving away a Copy of the European (Skull) Mount Process Book by Author, Kyle Hackett
Don't let this opportunity pass you - take your shot at winning something special! We're giving away an incredible book that you won't want to miss: the European (Skull) Mount Process Book by Author, Kyle Hackett.