Why Go Hunting in Hawaii?
With so many things to do in Hawaii's capital Honolulu, hunting might not have crossed your mind. But in the state of Hawaii, hunting is all around you.
Now you might not be thinking about hunting since winter is approaching.
Winter and the beginning of spring are slow times for hunting. It's all too easy to lose your hunting skills during this transitional period.
However, it doesn't have to be this way. You can still hone your skills by chasing some large game animals! Now is the ideal time to go hunting in Hawaii!
Here are some reasons why you should consider hunting in Hawaii:
Hunting in Hawaii is surprisingly affordable.
In just a two day hunt you can get an exotic trophy!
Relatively docile prey – animals in Hawaii have fewer natural predators and less pressure from hunters.
Finally, you can't beat the weather. 70 to 80 degree weather means you usually don't need
more than a t shirt. And when you want to take a break from hunting, there's plenty of things to do in Honolulu that you can even share with your family.
Now that you're sold on the idea of hunting in Hawaii, your first question will be "what can I hunt in Hawaii?"
What can You Hunt in Hawaii?
Here's the list of animals you can hunt in Hawaii:
feral goats
blacktailed deer
axis deer
feral hybrids (aka black Hawaiin sheep)
mouflon
feral sheep
feral pigs
mouflon sheep
Before you go hunting in Hawaii, like with any state you should know the rules.
How to go Hunting in Hawaii
It's important to get all your ducks in a row before going hunting in Hawaii. You'll need a hunting license to hunt in Hawaii.
However, before you can get a license to hunt in Hawaii, you'll need to complete a hunter education course in your state first. After that, if you're not a permanent resident of Hawaii you'll need to request a hunter ed. letter of exemption. You can do this by filling out and submitting this form. You'll receive a follow-up email after submission telling you how to purchase a Hawaii hunting license.
Getting your license is pretty straightforward. Nowadays if you meet the requirements you can even purchase your Hawaii hunting license online!
A nonresident license costs $95. You'll also need to get the conservation stamp, which costs
$10.
After you have your license, you'll need to purchase the game tags of the animals that you wish to hunt. Here are some of the game tag prices to give you an idea of what you'll have to pay:
Most species cost $25. However, a few species that vary from this number are:
Lanai Mouflon Sheep – $125
Axis Deer – $125
Rio Grande Turkey – $20
Game Birds – $10
Speaking of costs, your biggest expenses hunting in Hawaii will be airfare and lodging. You can somewhat minimize these costs by keeping a close eye on ticket brokers like expedia and orbitz. Alternatively, the cheapest way to go about it might be doing the booking through a travel agent.
You should also consider the logistics of meat care and transportation of the hide/head. A guide can help immensely with this.
The next thing to consider when hunting in Hawaii is…
Public Land and Private Land Pros and Cons
Each has its pros and cons, but generally speaking, hunting on private land is the best option if you can afford to pay a little bit more money.
So what are the main differences between the two?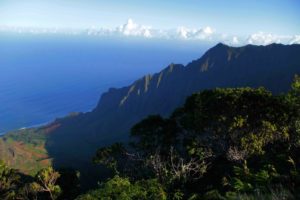 Public Land Advantage:
Cheaper to hunt on because you don't need to hire a guide.
Public Land Disadvantages:
More restrictive hunting. Oftentimes you can only hunt 2-3 days a week.
Animals will be more wary of humans due to frequent encroachment from humans on their territory.
Private Land Advantages:
Best quality hunting grounds thanks to less hunter pressure being put on animals.
Better quality hunting trophies thanks to tighter hunting regulations.
No orange requirements.
Private Land Disadvantage
Where to Hunt in Hawaii
Now, the last thing you'll need to know, of course, is where should you do your hunting?
What islands are best? And how many islands are there anyway?
Well, Hawaii is composed of just 8 islands, with only 6/8 of those islands being available for hunters. Each island is unique in terms of terrain and rules. To finish this article, we're going to give you a brief summary about hunting on the Big Island of Hawaii!
Hunting on the Big Island of Hawaii
The best time to go hunting in Hawaii is January through April. However, this doesn't mean very much; many areas in Hawaii are open for hunting year-round and the weather stays pretty consistent year-round.
The following are things that you know about hunting on the big island of Hawaii:
Animals to Hunt:
wild turkeys
feral goats
black Hawaiian sheep
feral sheep
feral pigs
mouflon sheep
Key Facts:
There are 11 public hunting areas.

Hunting with a scope and rifle are common in Hawaii | Hunting Magazine

Most public hunting areas are open only on Saturday and Sunday.
4 of the public hunting areas are open every day.
One of the hunting areas is for archery only.
Weapon legality varies greatly among the different hunting areas.
Finally, keep in mind that the terrain can be full of vegetation and rough at times. A good guide can be a lifesaver. At the very least, get a good GPS unit so you stay within boundaries. You don't want to accidentally trespass on private lands.
Suggested Product Offerings:
Last updated on September 19, 2023 2:27 pm
Are you excited?
We are giving away a Copy of the European (Skull) Mount Process Book by Author, Kyle Hackett
Don't let this opportunity pass you - take your shot at winning something special! We're giving away an incredible book that you won't want to miss: the European (Skull) Mount Process Book by Author, Kyle Hackett.