Modern life is peppered with moments of discovery around mobility: the first car drive as a teenager; the first trip on a train, plane, or bus, watching the world from a window seat.
In this decade, that moment is increasingly likely to be an inaugural ride on an ebike, often said to spark a childlike joy, thrilling and freeing. Indeed, ebikes are everywhere. According to the market research firm NPD Group, the pandemic bike boom boosted ebike sales by 145 percent from 2019 to 2020, more than double the rate of classic bikes. Ebikes are nothing new and there are a number of ebikes on the market now.
However, many improvements have been made in aspects of function and components of ebikes since they were produced in the 1990s. For example, ebikes were heavy. Some were over 100 pounds and used lead-acid batteries. Today, they are much lighter and use safer lithium-ion batteries. In this quickly growing electric world, the Magicycle companies performed very well.
Today we'll compare one of our products, Magicycle Cruiser with RadRover 5 by Rad Power, one of the best-selling electric bikes in North America. It is widely known that since Rad Power was born in 2015, its focus is put on making affordable and high-quality ebikes, while other than low price and high quality, our Magicycle also focuses on making ebikes for off-road activities.
Comparison Chart Between Magicycle Cruiser and RadRover 5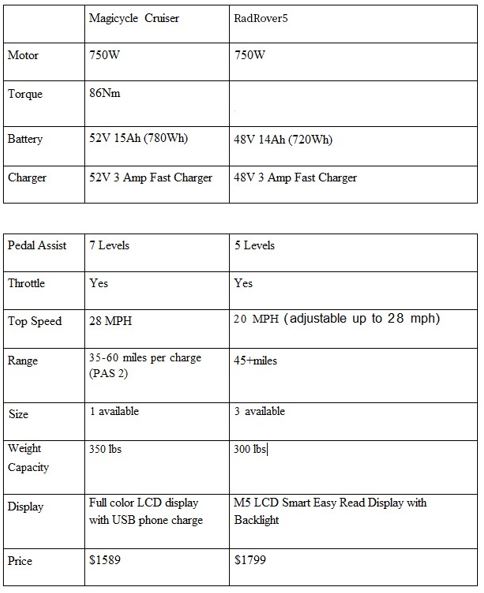 From the table above, we can see clearly that there are lots of differences between Magicycle Cruiser and RadRover 5 even though the price is pretty much the same.
First, some people may think they are the same because both of them have 750-watt motors. However, that is not the case. What makes them different from each other is the batteries.
The Magicycle Cruiser features a 52v battery with 15 Ah and the RadRover 5 features a 48v with 14Ah, which means that the battery of the Magicycle Cruiser can accelerate faster and give more range than the RadRover 5.
From the table, we can see that The Magicycle Cruiser can go between 35 and 60 miles on a single charge with RadRover 5 getting an estimated lower range between 20 and 45 miles per charge.
In addition, the Magicycle Cruiser with a fast charger needs a shorter time to be completely charged than RadRover 5.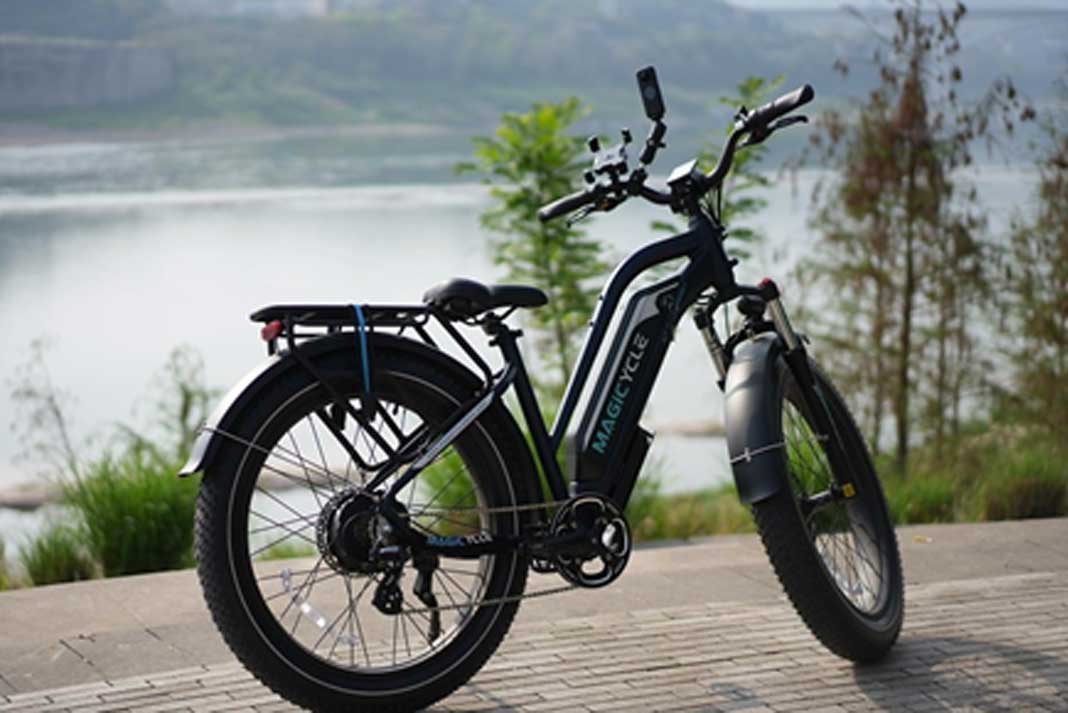 The second is about the payload capacity. The payload capacity of ebikes can be a significant feature when considering buying an ebike. For ebikes, in order to better meet the customers' needs, they should support at least 285 lbs, up to 330 lbs. In addition to the payload capacity, a step-thru frame shape is also very important for heavier individuals due to the limited mobility due to the weight.
Finally, it is about the terrain. Let me ask you a question first, which one would you choose if two ebikes cost almost the same while only one of them is suited for all-terrain. The answer is clear.
The RadRover 5 is indeed suited to all types of urban riding, but not for off-road traveling.
So, if you want to enjoy your riding and touch nature in the forest, our Magicycle Cruiser is your best choice.
Magicycle 52V Most Powerful Fat Tire Electric Bike Only $1,589! Limited Offer. Don't miss it! Free Shipping!
Are you excited?
We are giving away a Copy of the European (Skull) Mount Process Book by Author, Kyle Hackett
Don't let this opportunity pass you - take your shot at winning something special! We're giving away an incredible book that you won't want to miss: the European (Skull) Mount Process Book by Author, Kyle Hackett.